Mental Health Concerns in Seniors are Under-Diagnosed
Studies have shown that seniors are less likely to be diagnosed—and consequently, treated—for mental health problems, even though this is an acute concern for aging populations. Here, the elder care providers at Avila Home Care discuss this issue and best practices for ensuring the senior in your life is getting the care they need.
Mental Health Concerns for Senior Citizens
An American Psychological Association study has found that one in four adults over the age of 65 experiences a mental health problem, which most commonly includes depression, anxiety, schizophrenia or dementia. The National Council of Aging reports that Individuals who are 85 and older are also the most likely to commit suicide of any age group, particularly white males, who have a suicide rate that is six times higher than the general population.
Factors that Prevent Mental Health Treatment for Senior Citizens
Despite the high rate of mental health concerns, only one in three seniors with a mental health condition are receiving treatment. This is speculated to be due to a variety of factors:
Cultural Stigma 
For seniors who came of age before the 1960s, there is often a cultural stigma against mental health treatment. Many people of this generation were taught to shoulder their problems and manage without the help of a professional. Mental health concerns were sometimes considered a weakness or inherent flaw instead of being treated like any other medical condition. Unfortunately, this means that many senior citizens are hesitant to receive treatment when they are experiencing mental health concerns.
Unique Causes of Mental Health Concerns
Seniors suffering from a chronic or poorly treated physical ailment are more likely to suffer from mental health concerns, and the compounding of the two can make treatment difficult. Aging also brings other difficulties, such as loss of family and friends and a loss of physical ability, which can also be detrimental to a senior's mental health. These issues are not easily solved by traditional treatment methods, and so many seniors struggling with mental health problems may be left to shoulder the burden on their own.
Assumptions About Aging
Our natural assumptions about aging can also lead to a lack of treatment for seniors experiencing mental health concerns. We tend to believe that feelings of sadness, hopelessness or worthless are a natural part of aging, but this is not the case: seniors actually tend to have a higher self esteem and sense of self worth than younger populations. A senior experiencing joylessness, self esteem issues or a sense of worthlessness may not simply be handling aging poorly—they are likely experiencing a mental health concern that should be treated.
Ways to Help Seniors with Mental Health Concerns
It is important for family, friends and caretakers to know the signs of mental health distress and know how to start a dialogue with their beloved senior in order to encourage them to receive treatment. In seniors, mental health concerns are not always reflected through traditional symptoms such as unexplained sadness, insomnia, hopelessness or lack of interest in hobbies or other activities. Instead, seniors may experience physical ailments, cognitive decline and irritability when experiencing mental health distress. If these symptoms persist, it is important to have a conversation that encourages treatment. When discussing mental health treatment, be patient and know that many seniors will be resistant at first. It may be helpful to put the focus on your needs, "I want you to be healthy and happy for as long as possible. Talking to a doctor will help us to enjoy the time we have together more."
A home care provider can also prove beneficial in mitigating and identifying mental health concerns. The companionship services that the home care providers at Avila Home Care offer can help seniors to feel less isolated and increase their quality of life. And, with their training and years of experience, our care providers may be able to help alert you to signs that your beloved senior is experiencing a mental health concern, allowing them to receive treatment quickly. To learn more about Avila's home care providers, contact us today!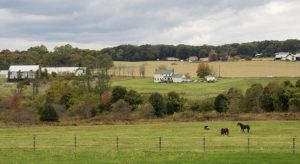 As Avila Home Care celebrates 5 years of our Caregivers serving Avila's Clients, we are delighted to share the story of a special match made 5 years ago and going strong… Avila Client Mary Bell Howser was born on October 8, 1933, and grew up on a bucolic 66-acre farm near Pikesville, Maryland. Her father…
Read More...