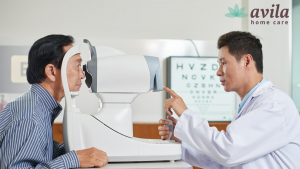 As our eyesight tends to worsen with age, many wonder if LASIK surgery is a viable option for the elderly compared to the typical contact lens or eyeglass prescription. Here, the aging-in-place and home care specialists at Avila Home Care explain how age and age-related factors can impact LASIK candidacy.
You Must Be 18 Years Old or Older to Receive LASIK 
Laser-assisted in-situ keratomileusis, or LASIK, eye surgery is a refractive surgical procedure that can help most individuals achieve around 20/20 vision. Many individuals considering LASIK surgery to correct their vision do so out of convenience—receiving LASIK reduces the need for contact lenses and eyeglasses and can improve your quality of life with little to no drawbacks. However, age could potentially be a factor in terms of your candidacy. 
While there is no upper age limit to receive LASIK surgery, you must be at least 18 years old or older to qualify. Otherwise, the most common age bracket for undergoing LASIK surgery falls between 20 to 40 years old. 
Eye Issues Associated With Age May Affect Your Eligibility
As we age, our eyes can become subject to certain age-related vision problems, including presbyopia and cataracts. Presbyopia typically presents itself in individuals in their 40s and 50s and is characterized as the difficulty to see close-up. Patients diagnosed with presbyopia typically consider reading glasses as a solution for their vision problems. Symptoms of cataracts, however, can become present at age 55 or older and is characterized by the clouding of the eye, which can impact vision.
Individuals with signs of presbyopia or cataracts may not qualify for LASIK surgery, as your eyesight may continue to worsen despite corrective surgery. In cases such as these, eyeglasses or contact lenses are typically recommended in addition to other surgical procedures such as refractive lens exchange (RLE) or cataract extraction surgery.
LASIK Candidacy for the Elderly is Granted on a Case-By-Case Basis
While older individuals are at an increased risk for developing age-related eye conditions such as presbyopia or cataracts, this does not mean that all individuals over the age of 40 are ineligible for LASIK. Candidacy for older individuals typically varies on a case-by-case basis, so talk to your doctor if you are interested in receiving LASIK eye surgery but do not fall into the average age range.
Discuss Your Options With a Home Care Specialist at Avila Home Care
Despite the potential that you may be ineligible to receive LASIK surgery due to your age, you should still discuss the possibility of LASIK surgery with an optometrist or opthamologist if you are considering vision correction surgery. If you are above the normal age range for LASIK, but do not experience signs and symptoms of presbyopia, cataracts or other age-related vision problems, you may qualify to receive surgery. The aging-in-place and home care specialists at Avila Home Care want you to be your most healthy and comfortable, and LASIK surgery may be just the solution if you suffer from vision problems that can be corrected with LASIK. While the home care specialists at Avila Home Care recommend speaking to a healthcare professional about the possibility of receiving LASIK surgery, we can assist you in driving to and from the eye doctor and aid you in any shape, way or form in order for you to receive the best at-home care possible. For more information, contact Avila Home Care today!
Unfortunately, in the midst of a global crisis caused by the novel coronavirus, many scammers have found an opportunity to target the elderly community. The home care professionals at Avila Home Care want you to stay proactive about protecting yourself from hackers, scammers and other threats. Here are a few of the top COVID-19 scams…
Read More...