Higher Risk of Dementia May Be Linked to Lack of Exercise, Study Says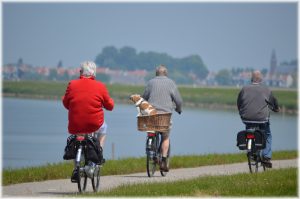 Multiple studies have linked a higher risk of the development of dementia, including Alzheimer's disease, with a lack of exercise. Here, the home care professionals at Avila Home Care discuss the results of the study and provide a strategy for inactive seniors to increase their levels of exercise.
 Link Between Stamina and Dementia Risk Found in Neurology Study
A study published in the medical journal Neurology found that an individual's level of stamina, or the level at which they reach peak exhaustion, is related to their relative risk of developing dementia. Women who had the highest levels of stamina in the study had an 88% lower risk of developing dementia when compared to women with only moderate levels of stamina. If women with the highest stamina levels did develop dementia, it was at an age that was, on average, 11 years older than women at other stamina levels. It is important to note that this study indicated a correlative link between fitness and dementia risk, not a causal one.
Sedentary Lifestyle Puts Seniors at as Much Risk of Developing Dementia as Those Genetically Predisposed to the Disease
A Canadian study indicated that men who lived a sedentary, or inactive, lifestyle were at a similar risk of developing dementia as men who were genetically predisposed to the disease. Researchers recently discovered the genes and gene mutations that are connected to an individual's predisposition to dementia and other neurological diseases. The study also showed that men who exercised regularly had a lower risk of developing dementia. This study also indicated a correlative link and not a causal one between exercise and dementia.
Exercise Does Not Have to Be Rigorous to Improve Neurological and Cognitive Health
Although high levels of fitness and stamina may result in improved protection against dementia, as the Neurology study indicated, rigorous exercise is not necessary to see improvements. In the Canadian study, the majority of men studied reported walking several times a week as their primary form of exercise. This indicates that even modest increases in exercise may have protective effects against dementia. The lead researcher in the study, Jennifer Heisz, said, "[This] means you don't have to train like an Olympian to get the brain health benefits of being physically active."
For seniors who are currently inactive, or who have health conditions that prevent rigorous exercise regimens, consider increasing your levels of physical activity by going for daily walks. The walking pace that incurs the most health benefits is one where you are able to talk, but unable to sing.
The home care professionals at Avila Home Care are dedicated to promoting and encouraging the health and wellness of seniors. To learn more about how you or a loved one can benefit from the compassionate care of an Avila Home Care specialist, contact Avila Home Care today!
Originally from Rockville, Maryland, Susan has extensive experience in administrative business management, and has worked in the HVAC and financial industries for two decades. Susan began her career working with The Trane Company in their Washington, DC office, and transferred to the Baltimore office when she got married. Next, she worked at T. Rowe Price…
Read More...