How Aging in Place is Benefited by a Professional Caregiver
Some seniors have unique needs and concerns, which can make aging in place seem daunting. A professional caregiver can mitigate many, if not most, of these concerns. Here, the homecare professionals at Avila explain why investing in a professional caregiver can be worth the expense, and provide the peace of mind you deserve while aging in place.
Aging in place is an attractive concept to many senior citizens, with surveys showing upwards of 90% of senior citizens wishing to stay in their home as they age. But, some senior citizens with special concerns, such as mental or physical illnesses, may worry about caring for themselves. Likewise, even seniors in good health often worry about feeling lonely and isolated, especially if family lives far away. In such situations, a professional caregiver can play a vital role in maximizing your aging in place experience.
Family Caregivers vs. Professional Caregivers
Family and other loved ones play a key role in a senior's life, as they provide love, support and companionship. While it is important for seniors to keep a tight-knit circle of family around them, relying on family alone for aging in place needs can be taxing. Caring for an elderly relative can take a lot of time, patience, and commitment. Family members may not be able to take off enough time to spend with their aging relatives, or may not be able to leave their job if the relative needs around-the-clock care. They also may live too far away to regularly help with everyday routines or needs. However, with the help of a professional caregiver, there's no reason for family members to provide all the support their loved one needs alone.  Family members may also not have the professional training to care for their loved one in a manner that is safe for them and their loved one.
How Professional Caregivers Help
Professional caregivers can play an important role in the life of an aging in place senior, filling in where family support or ability may be limited. Caregivers are carefully screened and selected, ensuring that they have the proper certifications and credentials. These professionals are trained to handle a wide variety of tasks, such as cooking, cleaning, helping with personal care, running errands, administering medications and even providing companionship. Many professional caregivers also offer memory care, helping elderly clients with Alzheimer's or dementia feel more confident and at ease. Professional caregivers can also be available on-call to provide the time and support that your elderly loved one needs.
Some people are concerned that caregivers will not be able to match the love that family members have for their senior relative. While the bond of blood can never quite be replicated, professional caregivers are dedicated, empathetic people, who love their jobs and take on the role of a dear friend and trusted assistant for their clients. They form strong attachments to their clients, and look at them as they would any cherished family member.
When an aging in place senior hires a professional caregiver, it does not mean that they are incapable of caring for themselves. When a family hires a professional caregiver for their loved one, it does not mean that the family does not wish to provide love, care and support for their elderly relative. What hiring a professional caregiver does mean is that a senior citizen wishes to live out their best years in peace, comfort and a familiar space, and that family members value their loved one's health, comfort and security enough to provide them the quality level of assistance they deserve. If you or a loved one wants a high quality, dedicated caregiver in their life, contact us today!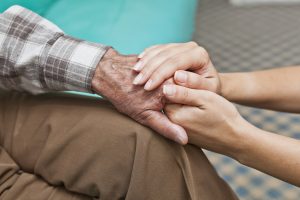 It can be frustrating and even downright painful to watch a loved one suffer, especially when they are reluctant to seek a doctor to treat their condition. While we cannot force our loved ones to receive medical treatment, there are ways to support them regardless of their personal choices. Here, the compassionate home care providers…
Read More...