Avila Home Care Receives Best of Home Care® Provider of Choice Award for the Fifth Year in a Row!
Baltimore – Avila Home Care announced today that for the fifth year in a row, it has received the prestigious Best of Home Care – Provider of Choice Award from Home Care Pulse. The Provider of Choice Award is granted only to nationally top-ranking home care providers, based upon client satisfaction scores gathered by Home Care Pulse, an independent satisfaction research firm. Avila Home Care is ranked among a select few home care providers across the entire United States who have proven their ability to provide outstanding care among 2,000 agencies.
"We're excited to congratulate Avila Home Care for their well-deserved achievement," says Todd Austin, President of Home Care Pulse. "It's wonderful to see the hard work that Avila Home Care is putting into providing high-quality care, and I'm excited to once again recognize Avila as one of the top home care providers in the nation!" 
Best of Home Care – Provider of Choice award-winning providers have contracted with Home Care Pulse to gather feedback from their clients by conducting live phone interviews with clients each month. Because Home Care Pulse is a third-party company, it is able to collect honest and unbiased feedback. Each month, Avila Home Care reviews the survey feedback in detail, and responds directly to clients about their responses.
Danny O'Brien, Avila's Founder and CEO, shares, "This award is a tribute to our Caregivers and office staff whose kindness, commitment and joyful teamwork is reflected in their service to our clients every single day. It's an honor to receive this recognition, and we dedicate it to our wonderful clients who inspire us to serve!"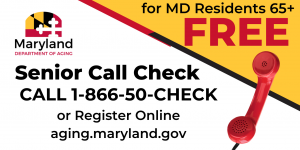 ​​​Maryland is the very first state in the country to offer a free telephonic service to check on the older population all across the state. This opt-in telephone service, Senior Call Check, ensures our state's beloved seniors are regularly checked in on so they can stay safe and their loved ones can have peace of…
Read More...