The Petrucci Story- Kindness Means A Lot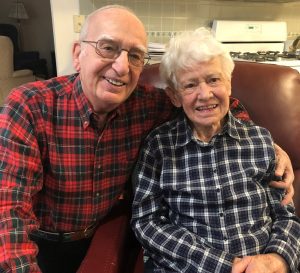 "The people around you form you- none were rich, but all had love…" Rita Ann Petrucci's eyes sparkle with memories. Born and raised in a loving Irish family in East Baltimore in the 1930's and 40's, Rita attended St. Elizabeth's School with her 1 sister and 2 brothers. Her mother Esther instilled a deep and abiding kindness in her children, "Treat people the way you'd like to be treated." Esther practiced what she preached- often taking in people who didn't have a place to stay or a warm meal to eat.
Rita has fond memories of her youth, playing basketball (her sister was the team's coach!) and visiting the shops and restaurants in downtown Baltimore with her Aunt Mae.
Kindness seemed to guide everything that the family did- "My sister and I would go to church, and after church we liked to go to the bakery. There were two bakeries- one by Pulaski Highway and one on the corner- we preferred the Pulaski Highway bakery, but our mother encouraged us to go to the one on the corner because it was owned by a widow who was trying to make ends meet and feed her family."
Even at the CYO dances at her school, Rita exuded grace and compassion- "There was a boy that no one ever wanted to dance with, and so during the "Lady's Choice" dance, I'd always ask him to dance."
At 21, Steve was stationed with the US Army in Germany. He said a silver lining of his service was that in 1952 his parents were able to travel to Italy to meet him. They spent two weeks over the holidays with their whole family in Rome, where Steve got to meet many family members who he hadn't met before. "The Petrucci name goes back 600 years- we have the written history of the name, and the Coat of Arms."
Steve had a wonderful time with his extended family and especially his cousins, and meeting so many of his family's friends and neighbors in Rome. His family suggested that he meet a nice girl and settle down, and even invited several to the house for Steve to meet, but he wasn't interested "I was waiting for Rita".
In 1955 Rita and her future husband Steve both worked for the City of Baltimore- she on the 1st floor of the office building and he on the 4th. She was 18 and he was 24 years old- having just returned from serving in the Army. Steve started as a draftsman, and then became an engineer, working for 44 years with Baltimore City in the Department of Urban Renewal, which later became the Department of Housing and Community Development. Rita worked for 39 years with the City, eventually becoming the Appointment Secretary for the Director of Public Works.
Rita and Steve's first date was a movie in downtown Baltimore, followed by dinner at Velleggia's restaurant. Rita remembers Steve asking her if she liked Italian food before they picked a place for dinner- "Oh yes, I love it!" she pretended as to not hurt his feelings. Steve remembers fondly "I noticed that she pushed the spaghetti that she'd ordered around on the plate towards the sides so that it looked like she'd eaten some." Steve later found out that Rita's favorite food was fried chicken, mashed potatoes and corn.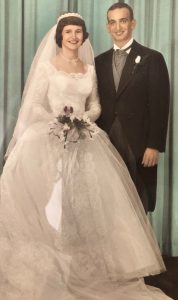 "I chased her until she caught me!" a smiling Steve reveals- "She was dating another guy too, and one of us would take her to lunch, and one of us to dinner- her next door neighbor would sit on the porch watching us all come and go- it must have been good entertainment! My charms finally won her over," Steve quips "and she broke up with the other guy."
At one point during their blossoming relationship, the couple recalls that Rita thought things were getting too serious and she wrote Steve a letter to break it off. The very next day, Steve happened to get on the same elevator as Rita when he arrived at work in the morning. He received another letter the next day from Rita saying that she'd like to get back together with him.
Rita and Steve were married in 1957. For many years they lived in a house on Marietta Avenue near the corner of Northern Parkway and Old Harford Road. In 2001 they moved to their apartment in Lutherville/Timonium. A lovely painting of their former house is framed on a wall in their apartment.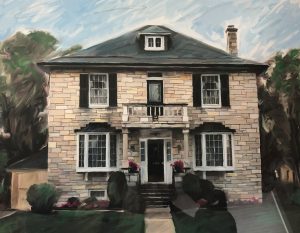 When they began needing some extra support a couple years ago, "Avila Home Care was recommended by a neighbor and also by our financial advisor," Steve says. "We can't say enough good things about our Caregivers from Avila- they are just perfect."
"Rita loves singing- she has since she was a girl- she's always humming. When we first got married, she would sing in the shower, and I would joke with her "What did you do with the money that your mother gave you for singing lessons?!" One of her Caregivers picked up on Rita's love of singing right away, and she would often sing together with Rita "You are my sunshine, my only sunshine…""
"We wouldn't hesitate to recommend Avila to anyone- they are sincere, and good at their jobs. They really care…and kindness means a lot."
Rita and Steve will celebrate 64 years of marriage in June, 2021.
Avila Home Care cherishes the life journey of each and every one of our clients.
If you or your loved one would like to be featured in a story,
please call or email Gretchen at 347-678-9912 or gretchen@avilahomecare.com.
Dental hygiene is important for individuals of all ages; however, seniors experience specific dental health issues due both to age and other factors. Here, the senior care providers at Avila Home Care discuss common dental health concerns for seniors, as well as strategies to maintain good dental health. Increased Likelihood of Cavities Cavities, or permanent…
Read More...