Alzheimer's Association Offers Sing-A-Long to Enjoy From Home
Avila Home Care is delighted to share a chance to Sing-A-Long with the Alzheimer's Association tomorrow, Friday, May 29th at 11am!
Plus, almost every Friday the AA will have a fun activity at 11am:
Friday, June 5th-Virtual Art Moment at the Walter's Museum
Friday, June 12th- Find Your Rhythm
Friday, June 26th- Virtual Walk on the Wildside at the Maryland Zoo
Details for these and other free education programs (new ones coming up in June on COVID-19 and Caregiving and our Living with Alzheimer's for Caregiver Series), support groups and virtual conferences can be found on the AA's Facebook page, website and Community Resource Finder. Register here: bit.ly/ALZsongs.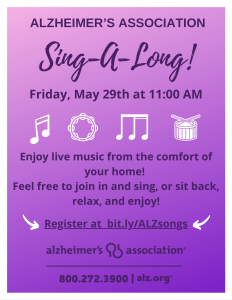 Yesterday marked 9 months since I started my new business Avila Home Care.  That first day, we served two clients with three caregivers.  It was the beginning of what has been a wonderful adventure so far.  Today, we have over 70 dedicated caregivers providing outstanding care to the amazing families we have the privilege of…
Read More...