Alzheimer's Association Offers Sing-A-Long to Enjoy From Home
Avila Home Care is delighted to share a chance to Sing-A-Long with the Alzheimer's Association tomorrow, Friday, May 29th at 11am!
Plus, almost every Friday the AA will have a fun activity at 11am:
Friday, June 5th-Virtual Art Moment at the Walter's Museum
Friday, June 12th- Find Your Rhythm
Friday, June 26th- Virtual Walk on the Wildside at the Maryland Zoo
Details for these and other free education programs (new ones coming up in June on COVID-19 and Caregiving and our Living with Alzheimer's for Caregiver Series), support groups and virtual conferences can be found on the AA's Facebook page, website and Community Resource Finder. Register here: bit.ly/ALZsongs.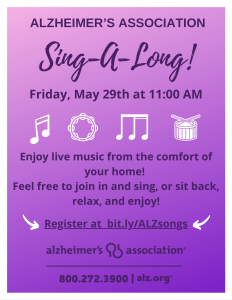 When seniors make the decision to age in place, it is important their home is suited to fit their lifestyle and needs. In addition, as we all adapt to the pandemic, there are important adjustments the elderly should especially make to prepare their home to be suitable for their extended stay. Here, the home…
Read More...