Best Practices to Avoid Slipping and Falling on Ice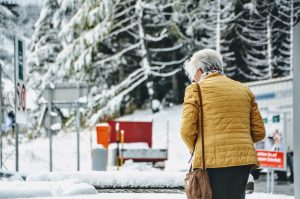 As the cold weather arrives this winter, it may become more difficult for seniors to be mobile outdoors. Hazardous conditions such as snow and ice can increase the chance of falls for seniors who venture outside and lead to serious injury. Here, the home care providers at Avila Home Care discuss tips on preventing and avoiding slips and falls on ice during the winter season.
Prepare in Advance
One of the best ways to avoid injury from slipping on ice is by mitigating the threat of ice in the first place. When signs of harsh winter weather arise, salting your sidewalks and driveway before it snows, and making sure you have the necessary tools to remove snow and ice, can lessen the chance of you or a loved one injuring themselves from a fall. In addition, consider taking precautions such as placing a doormat at the front of your home to prevent puddles that can cause slips once inside your house, and park your car as close to your home as possible for the shortest walk. You should also make sure that any outdoor stairs or railings are in good condition and free from ice or debris. If you are unable to take these precautions, ask a neighbor, family member or friend if they can help out, or hire someone.
Dress Properly
Another tip to help avoid slips and falls on ice this winter is to wear proper footwear. Investing in waterproof or snow boots with good traction can help you or your loved one remain steady outdoors. If you have limited mobility, consider investing in shoes that are easy to get on and off, such as velcro or slip-on boots. In addition to footwear, making sure you have a warm winter coat and wear layers when you go outside is very important. However, make sure these layers give you the flexibility to move comfortably so that you are able to maneuver through the snow if need be.
Stay Active
While the winter weather tends to make people want to curl up indoors and avoid the cold, it is still important to remain active and healthy during the winter months. Walking through snow can be difficult, so doing indoor exercises to strengthen your leg and arm muscles helps to ensure you are able to maintain your mobility and maneuver comfortably outside during the winter months. Staying active throughout the winter can also bring long-term benefits to your overall health and wellbeing after the winter months are over.
Have a Plan
While no one ever wants to think about an emergency occurring, it is important to be proactive and have a plan in place. If you or a loved one does fall, do they have access to a phone or device to quickly call emergency services? If bad weather is coming, plan to get all of your holiday or grocery shopping completed beforehand so you do not have to go out in the treacherous weather. Finally, consider having designated check-in times with family members when the weather is harsh to make sure that your loved ones are safe and sound.
Learn More With Avila Home Care
Winter weather can be dangerous to anyone, but seniors should take special considerations during the colder months. Preparing for cold weather, dressing appropriately and having an emergency plan can alleviate worry for both you and your loved ones, and help prevent falls or slips on ice. The dedicated home care providers at Avila Home Care offer mobility services to keep you safe when traveling to your appointments, running errands and more. To learn more about how Avila Home Care can help, contact us today.
The aging in place caregivers at Avila Home Care always encourage readers to discuss any health questions or concerns with a qualified healthcare professional.
Some content in this article was sourced from Nidrect and EHSToday.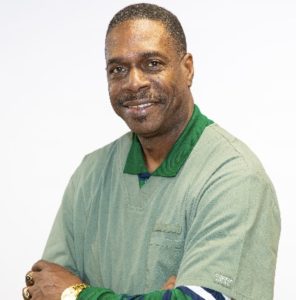 Curt Thompson is Avila's Caregiver of the Month for September, 2021!  Curt has served Avila's clients for 3 years. During that time he has shown great care and compassion. His willing spirt and positivity is a blessing. We are thankful for Curt's commitment, and we are so grateful to have him on Avila's team- thank…
Read More...